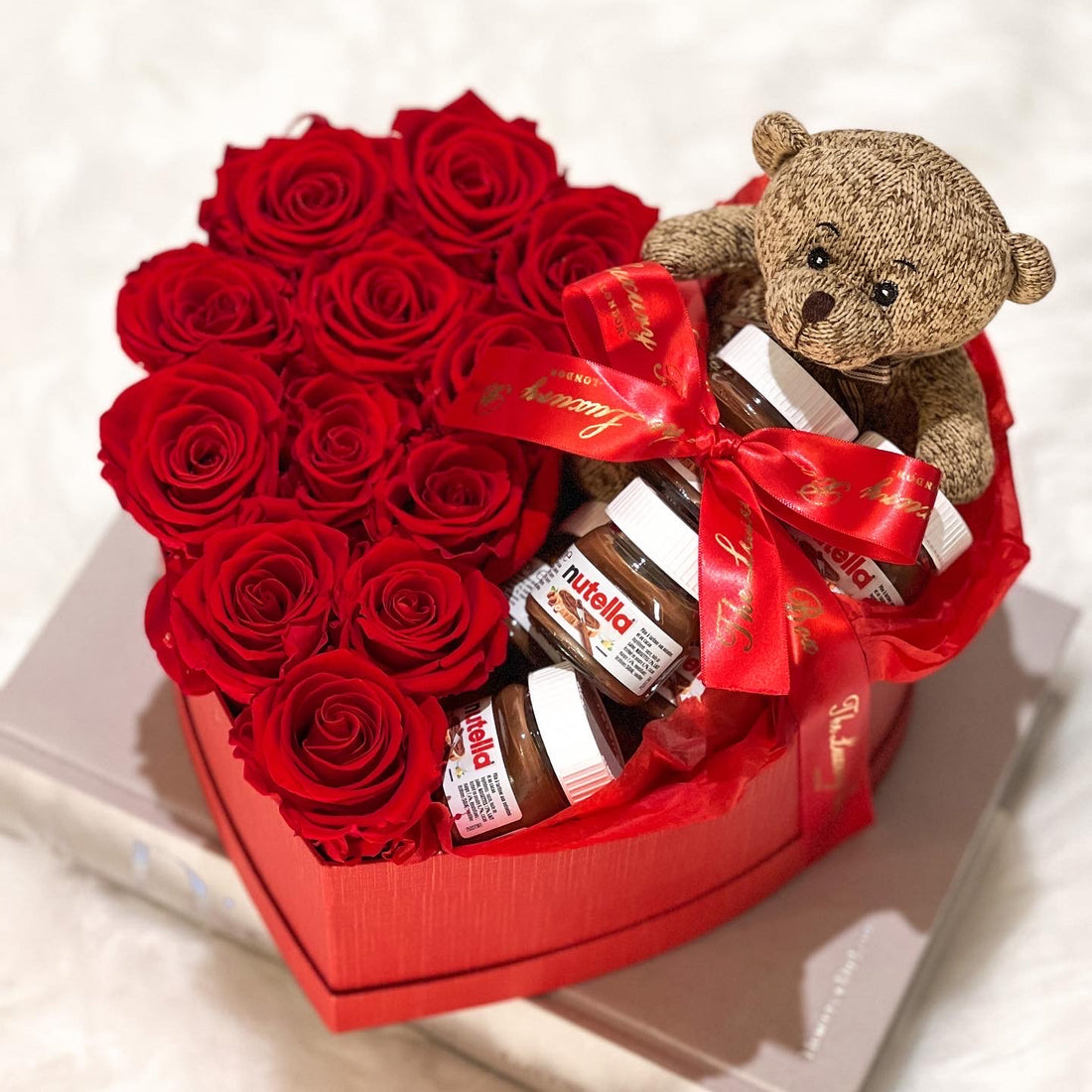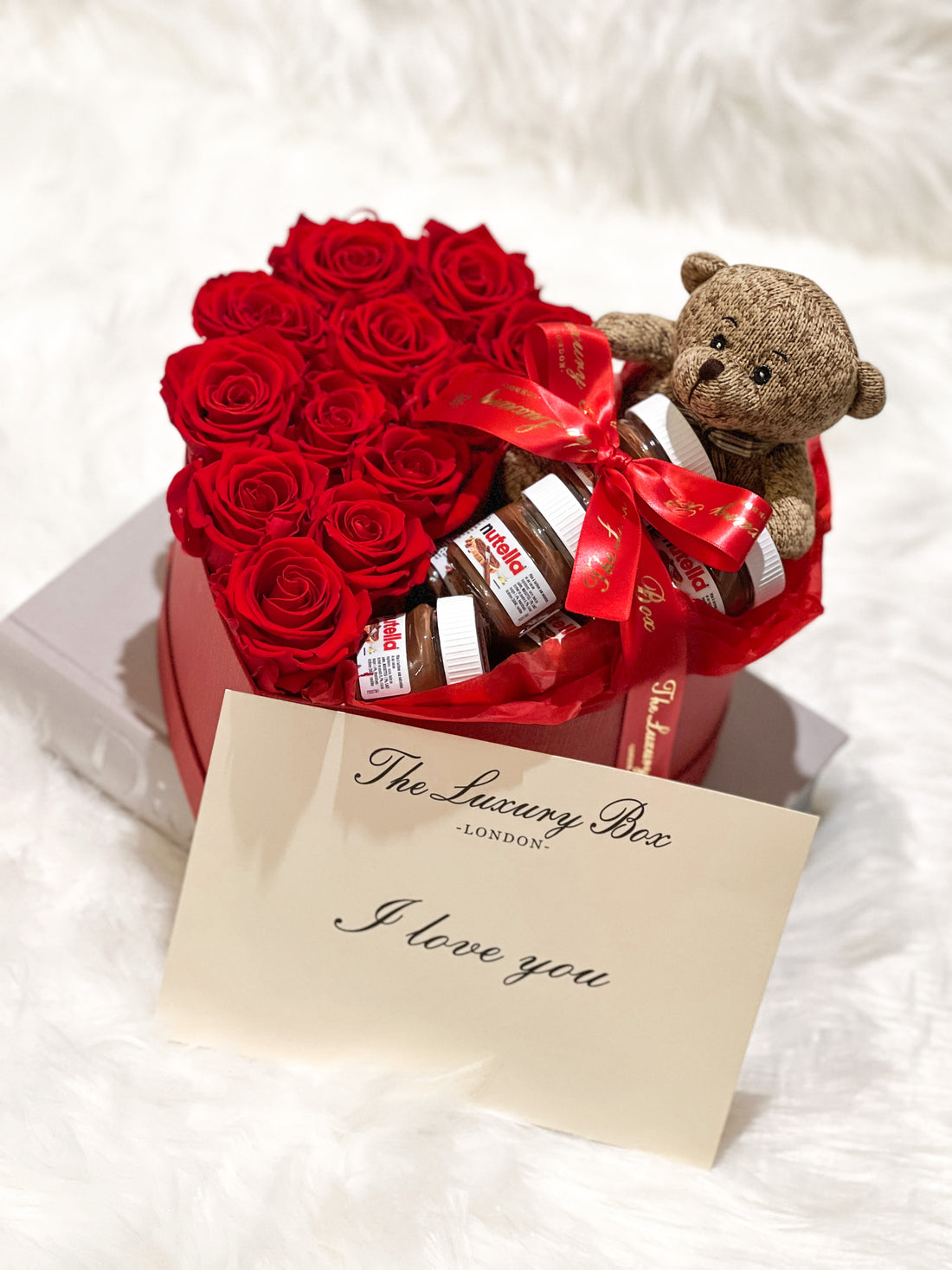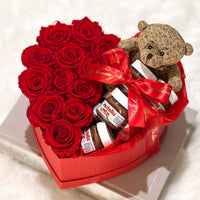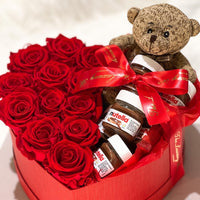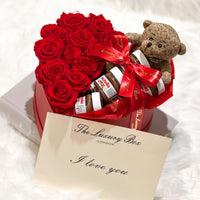 Nutella Gift Set - Infinity Roses & Teddy Bear
❤️This product is available for collection only or delivery in West London. Please get in touch for more information.❤️
A gift for a Nutella lover! A beautiful Nutella and Eternity Preserved Roses arrangement (roses that last up to 3 years) that comes together with a cute teddy bear. A real chocolate lover treat!
A WOW gift for any occasion. Beautifully crafted in a heart shaped box, with premium preserved roses, Nutella mini jars, and a Luxury Teddy Bear, finished with our silk branded ribbon. 
Include a gift message with your special gift for a personal touch.
Anyone who has ever had a gooey spoonful of Nutella in his life will tell you that as spreads go, Nutella is indeed special; and cocoa and hazelnut are a match made in heaven.
NUTELLA FACT 1
As the name suggests, Nutella is indeed full of nuts, hazelnuts to be exact. And the popularity is such that 25% of the ENTIRE world's hazelnut crops are used every year to make the sweet stuff. With 50 hazelnuts in each jar alone, that's A LOT of nuts!
NUTELLA FACT 2
Nutella is more popular than babies. Seriously. Around the world, 1 jar is sold every 2.5 seconds, compared to 1 baby born every 4 seconds.
NUTELLA FACT 3
In case you were wondering what all this Nutella would actually look like in one place, you could cover the Great Wall of China eight times with the amount sold in a year. I don't recommend trying though.
NUTELLA FACT 4
The French are largely responsible for these epic numbers. They consume an average of 1 kilo per person, per year. Remember that's an average,which means there are some Frenchies eating wayyyy more than that!
Our Eternity Roses need minimal care. Follow the tips below to ensure your roses will maintain their colour and look for up to 3 years:
Do not water the roses and refrain from touching themKeep your roses in a room-temperature environment and avoid direct sunlight and humidity. Do not place anything on top of the roses as it will damage their shapePlease handle the box with care, avoiding tilting and throwing.
Rose Bears however require only light dusting from time to ensure no build up of dust if on display
We offer free and fast delivery with all our orders. You can see all the available delivery options at check out. If you want your order delivered on a specific date, let us know in the "Notes" section at check out. Please note that we only deliver on working days (no weekends or bank holidays).
If you need your roses faster or on a weekend, you can collect your order from our unit in Chiswick, London or opt for next day delivery. Please contact us for more information on collection times.
Also check out our Rose Bear collection or go back to see all our Eternity Roses.