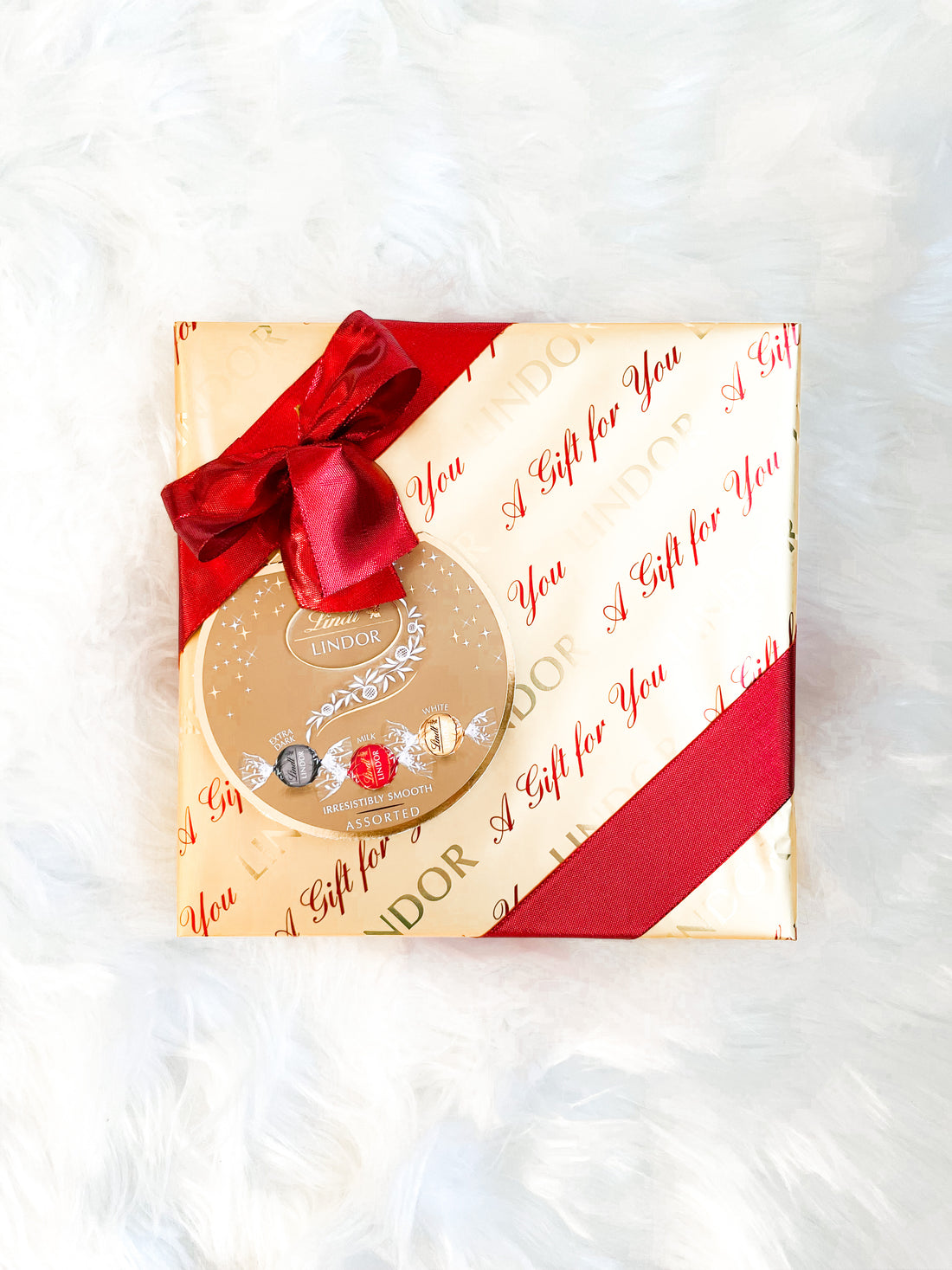 Lindt LINDOR Assorted Chocolate Gift Wrapped Box 287g
The Lindt LINDOR Assorted Chocolate Gift Wrapped Box is the perfect Valentine's Day gift. The exquisitely wrapped gift box, complete with beautiful ribbon and bow, is sure to impress your loved ones. Add it next to your infinity rose box or rose bear for the perfect Valentine's Day gift. The Lindt Master Chocolatiers combine expertise and the finest ingredients to produce the perfectly round chocolate shell with an irresistibly smooth melting filling. The LINDOR assorted chocolate box is the ideal small gift for every occasion this Valentine's Day. Since 1845, Lindt has been dedicated to producing the finest chocolates and the recipes created by the Lindt Master Chocolatiers are of the highest quality to delight your taste buds. 
Ingredients:
Sugar, vegetable fat (coconut, palm kernel), cocoa butter, cocoa mass, whole MILK powder, LACTOSE, anhydrous MILK fat, skimmed MILK powder, emulsifier (SOYA lecithin), BARLEY malt extract, flavourings, vanilla beans.
Allergens: May contain HAZELNUTS and other NUTS
Cocoa Solids %: Milk chocolate contains: Cocoa solids: 32 min., Milk solids: 21% min. White chocolate contains: Cocoa solids: 30% min., Milk solids: 20% min., Extra Dark chocolate contains: Cocoa solids: 60% min.
Our Eternity Roses need minimal care. Follow the tips below to ensure your roses will maintain their colour and look for up to 3 years:
Do not water the roses and refrain from touching themKeep your roses in a room-temperature environment and avoid direct sunlight and humidity. Do not place anything on top of the roses as it will damage their shapePlease handle the box with care, avoiding tilting and throwing.
Rose Bears however require only light dusting from time to ensure no build up of dust if on display
We offer free and fast delivery with all our orders. You can see all the available delivery options at check out. If you want your order delivered on a specific date, let us know in the "Notes" section at check out. Please note that we only deliver on working days (no weekends or bank holidays).
If you need your roses faster or on a weekend, you can collect your order from our unit in Chiswick, London or opt for next day delivery. Please contact us for more information on collection times.
Also check out our Rose Bear collection or go back to see all our Eternity Roses.